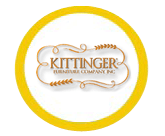 For more than six generations, The Kittinger Furniture Company has set an unparalleled standard among manufacturers of fine furniture. The company was established in 1866, one year after peace between the North and South was restored. George and Oliver Colie were industrial entrepreneurs filled with high hopes and magnificent expectations. The Colies opened a paper factory in the bustling Great Lakes port of Buffalo, New York. Soon thereafter, they also began to manufacture upholstered furniture and that business boomed. In 1885, they opened a furniture plant that produced beautiful handcrafted furniture in classic 18th century styles.
When George Colie's son-in-law, Irvine J. Kittinger, took the helm in 1913, The Kittinger Furniture Company was born. To Irvine Kittinger, quality was paramount. "Our business is not primarily to turn furniture into money, but to produce something really worthwhile." he wrote. Kittinger's philosophy remains the cornerstone of the company's business today. The Kittinger Furniture Company still produces the world's finest handcrafted furniture, using the same care, detailing and innovation for which it has been renowned throughout the century. The Kittinger Furniture Company takes great pride in the fact that it has served many customers again and again, including families across several generations. It has also built custom furnishings for government offices at both ends of Pennsylvania Avenue for more than 40 years.
With its already long established tradition in producing fine furniture, Kittinger Furniture was licensed by Colonial Williamsburg to reproduce and adapt pieces for its collection from the Program's inception in 1937 to 1990. During this period, Kittinger Furniture reproduced more than 200 pieces for Colonial Williamsburg. In addition to the Williamsburg Collection, Kittinger Furniture was licensed to be the exclusive maker of Historic Newport Reproductions featuring works by Newport's Goddard and Townsend cabinetmakers. Other Kittinger furniture licensed reproductions include the finest antiques from: The Baleroy Collection, a private Philadelphia collection with original antiques dating from 1740-1760; Independence Hall Reproductions and Historic Savannah Reproductions, depicting the rich heritage of regional furniture. In 1974, the Biggs Furniture Company of Richmond, Virginia was acquired by the Kittinger Furniture Company and it became the Biggs Division of Kittinger. The Biggs Division was licensed to produce the Old Dominion Collection, Old Sturbridge Village Collection and Thomas Jefferson Furniture Reproductions. These collections included an extensive collection of important pieces of Americana from early country furniture to beautifully developed Queen Anne and Rococo furniture.
Stenella says: Among the Early American and Colonial style furniture manufacturers, Kittinger furniture is in a league of its own as far as quality, design and finish; particularly their vintage Colonial Williamsburg and Historic Newport Collections. Many of these items are exact museum reproductions or adaptations of period English and American furniture. If you are looking to recreate an authentic interior in the early Americana style, Kittinger furniture is the finest product available. The popularity of Kittinger furniture rose to its highest levels during the Nixon administration. While in office, Nixon discovered the fine quality and traditional pieces and even personally purchased several items including the cabinet room table and donated it to the White House. Many pieces of furniture were commissioned for the White House over the years. The decorators responsible for the White House realized the high quality and period style in these pieces and knew they were exactly right for the most prestigious home in America.
The attention to detail with Kittinger furniture is second to none. Many of these items feature exacting details that make these items as close as possible to the period original in which they are being reproduced. The attention to detail starts with the best wood selection, best woodworkers and skilled craftsmen, great quality carved details, top quality choice of exacting hardware, rose head nails, hand dovetailed joinery, hand chamfered drawers and then a highly complex finish that is rarely duplicated outside of the factory. Their finish process used to include the use of Aniline dyes. These transparent dyes are able to offer maximum clarity and and rich color tones without obscuring the grain. Kittinger also often "bleached" their woods prior to finishing to enable them to evenly color match any variations in graining, color or board matching. The cabinet makers and craftsmen at Kittinger were very particular about board selection which is a key step to ensure that the best possible finished product can be achieved. These are hand crafted and finished works of art with each piece having its own distinct character or story. In truth, no two Kittinger pieces are exactly the same.
Even beyond the Colonial Williamsburg and Historic Newport Collections, Kittinger produced many other traditional, mid century modern and formal furniture for the home and office. When buying Kittinger furniture, you can be confident you are getting a top quality crafted piece of American made furniture.
Due to the high cost of crafting these fine pieces and additional changes in market conditions, the Kittinger furniture company was forced to close its doors and facility in the early 90's. Kittinger and WILLIAMSBURG ® collaborated on their magnificent project for more than fifty years until their association ended in 1990. Their collaboration produced furniture reproductions known the world over for unquestioned authenticity, quality and design. These pieces are still found today in the world's finest homes and even in the White House in Washington, D.C.
The Kittinger family's original philosophy remains the cornerstone of the company's business today. The Kittinger Furniture Company still produces the world's finest handcrafted furniture in Buffalo, NY, using the same care, detailing and innovation for which it has been renowned throughout the century. Ray Bialkowski, is now the longest independent owner since the Kittinger Family, with over 37 years of Kittinger expertise. ( 17 years as a craftsmen and 20 years as owner). He has taken great pride in the many customers we have served over and over again, including families across several generations. "Today, we have a great representation of traditional and transitional furniture, and a great willingness to customize anything to our clients specifications." Ray Bialkowski 2016